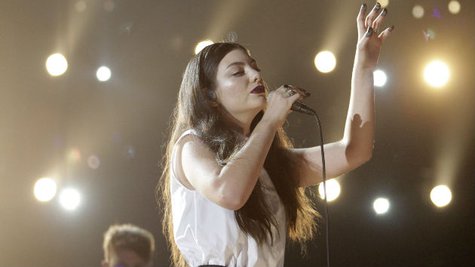 Lorde kicks off a brief North American headlining tour on Monday night in Austin, Texas, but if you didn't get tickets, don't worry: she just might give you some for free.
The singer wrote on her Facebook page, "P EOPLE OF NORTH AMERICA, I HAVE AN EXCITING ANNOUNCEMENT: for every show on the march tour, i am giving away two tickets, so if you missed out this is your MOMENT. or a great first date option, if you want that date to involve intense onstage body thrashing."
She explains that if you want to win the tickets, simply send an email to freelordetickets@gmail.com with your name, which show you want to attend, and why you think you should get the tickets. " i'm so pumped. i'll see you there. x x x," she added.
The tour wraps up March 26 in Oakland, California, and then Lorde will head to Chile and Brazil to play the Lollapalooza festivals in those two countries.

Meanwhile, Lorde's next single has been given a boost by a bunch of vikings. After her track "Glory and Gore" was used to soundtrack a trailer for the second season of The History Channel series Vikings, it shot up the iTunes chart, and began exploding on Shazam.
Lorde's songs seem to work well in trailers: a fan-made video that paired imagery from the upcoming season of Game of Thrones with her version of Tears for Fears ' "Everybody Wants to Rule the World" got plenty of attention last week...until HBO made YouTube take it down.
Meanwhile, Lorde has a new celebrity fan: Bruce Springsteen . Performing in her home country of New Zealand on Friday night, the rock legend kicked off the show with a solo acoustic version of "Royals," changing the lyrics from "Queen Bee" to "King Bee."
Finally, Lorde's debut album Pure Heroine has gone platinum. It's the first debut album by a female to sell a million copies since April 2011, when Adele's 19 hit that sales milestone. It's the second album to go platinum so far this year, after Katy Perry's PRISM.
Copyright 2014 ABC News Radio